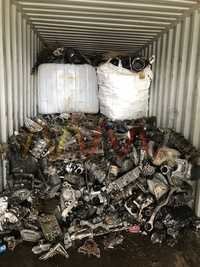 Mixed Aluminum Casting Scrap
Product Description
Mixed Aluminum Castings
The offered aluminium scrap should consists of sorted and cleaned castings of aluminium and these castings may include airplane as well as auto castings. This scrap metal should not contain any non metallic substances, brass, iron and impurities like dirt. Moreover, the total amount of grease and oil should not exceed 2%.
The provided scrap metal should contain thoroughly cleaned aluminium fabricated automobile castings of required size so that these can be easily traced.
ISRI Term TENSE :
It should contain properly cleaned aluminium made automobile castings with required size range so that these can be recognized sans any difficulty. The quantity of aluminium should be ranged between 70 to 80% as the grading and cost of the product depend on the amount of aluminium present in it.
Price and Quantity :
Minimum Order Quantity : 24 tons.
Unit of Measure : 40 Ft HC Container
Current Supply Capacity :500 tons/month
Product Specifications :
Condition : Scrap
Alloy : Aluminium
Size : Variable
Scrap Type : Aluminium Scrap
Color : Aluminium
Contact Us
33-36, Bearing Road, Seven Hills, New South Wales, 2147, Australia
Phone :61-4525-38848